The writer and humanitarian Jean Vanier, known for starting L'Arche, died May 7 at the age of 90. People have travelled from all over to Trosly-Breuil, the village in France where he started the first L'Arche community. His funeral will take place there on Thursday and can be viewed here. Rev. Donna Tourneur is attending the service. She is a minister at Trinity United in New Glasgow, N.S. 
Emma Prestwich: What does it mean to you to be at Jean Vanier's funeral?
Donna Tourneur: It's a huge, huge honour and privilege. I feel like it's a moment in history. As a Canadian, I'm very proud to claim Jean Vanier as Canadian. I'm very proud that he moved away from the life of luxury and security and authority and opened his heart to be vulnerable and tender and caring to those who are most in need. And I'm proud that his family supported him financially and spiritually, and that he's influenced so many people all over the world. L'Arche is in 38 countries, and some of the most vulnerable people are being cared for in a way that they would not have been. And by offering them care, we care for ourselves.
EP: What is your connection to L'Arche and Jean Vanier?
DT: I have been serving with the church leaders' group to support L'Arche International. There's an international leadership team and they gather with church leaders maybe annually. We might be invited to reflect on something that's happening in the community or offer some spiritual support for the international leadership team. My role is to be one of the four people on that team, which is made up of: an archbishop in France, a Church of England bishop, a Presbyterian minister in Northern Ireland and me.
EP: Have you lived in a L'Arche community before?
DT: I have not lived in the community, but when I served 10 and a half years in Whycocomagh in Nova Scotia, there was a L'Arche community right there, which I was pretty connected to.
My initiation [to L'Arche] was in the summer distance program for my Master of Divinity. I did my social ministry practicum there. It was a really good journey. I learned a lot about myself.
One of the things that I learned, and I keep learning every time I'm with a L'Arche community, is to relax on my overzealous nature of accomplishing things. Sometimes the best things can happen when you just settle down and be in relationship. So, it's moving from doing to being present. It's hard for me. I don't have to have all the answers today.
Jean Vanier, of course, is the inspiration for all of these communities. I wouldn't say that we were friends, he wouldn't know me if he fell over me, but we did meet on a couple of occasions.
When I visited this community a year and a half ago, and had a conversation with Jean, he was asking what we were doing as church leaders, what we were talking about. I told him that we spend quite a bit of time talking about the next evolution of L'Arche.
Jean said to me, "You can't worry too much about what it's going to be like in the future, you just have to do the very best you can do for today and let the future take care of itself." It was another reminder for me to just be present in the moment, offer whatever insights you can based on your experience of spirituality and expect the next generation to do the same thing.
It's a good reminder for the church, because we can get really caught up in saying what we think is important, and that may not be what's important at all.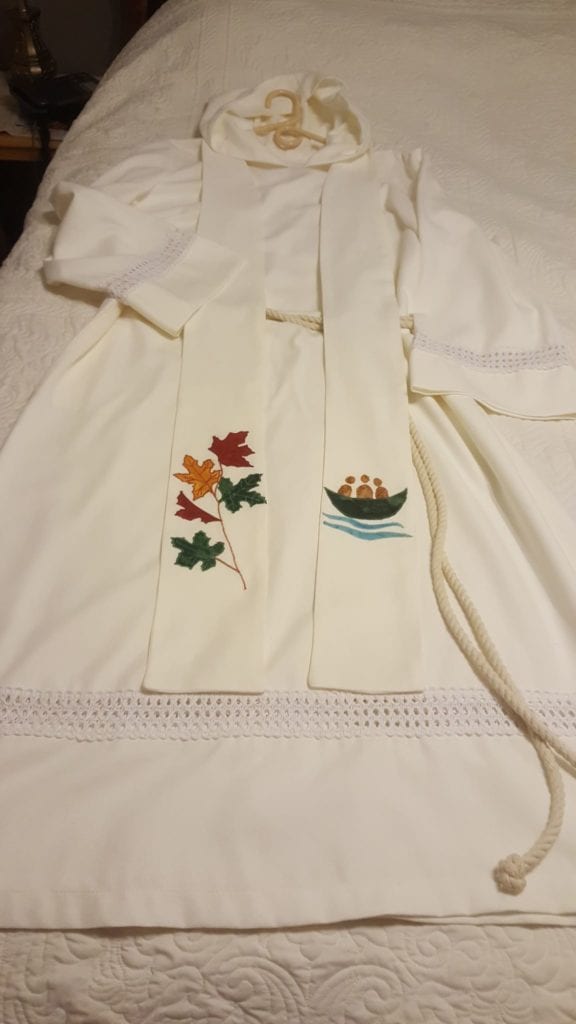 EP: How did you react to his passing last week?
DT: It wasn't a surprise to me. We were getting updates on his health for most of the past year, so I could see the decline, and he wrote letters and gave messages through his caregivers to offer to the L'Arche International leaders. It was maybe a bit of a relief, because he was ready and welcomed the next phase of his journey. He was confident that he left his mark in a good way. So to be released, at the age of 90, from that work and that body is an okay thing. His spirit is with us. His energy and his passion are going to live on for a long time.
EP: How have you spent your time leading up to the funeral?
DT: His body is resting in the community where he lived. And so people were coming and going just to honour, pay respects or have a little private moment. So I went with some other people from this community.
The place is so beautiful. Everything is blooming. The leaves are out, with irises and lilies and all kinds of perennial flowers that are blooming everywhere. So it's just a really lovely time to be here. A lot of really good energy.
This interview has been edited and condensed.
For more of Broadview's award-winning content, subscribe to the magazine today.