When Rev. Stephen Milton first broke ground on the front lawn of Lawrence Park Community Church, he was worried that the scores of crosses would look out of place. Across the street from Sunnybrook Hospital in Toronto, he helped pitch neat rows of approximately 26 wooden crosses, three feet tall and fashioned from two-by-fours. Most strikingly, they come in all hues — red, green, blue, orange, and more — prismatic markers of grief dappling the lawn.
"I had asked the people who were painting the crosses to paint them mostly dark brown and light brown," said Milton. The colourful result came as a surprise to him, but when he saw them together, he realized that their rainbow-styled inclusivity was almost "providential" for his project's intent.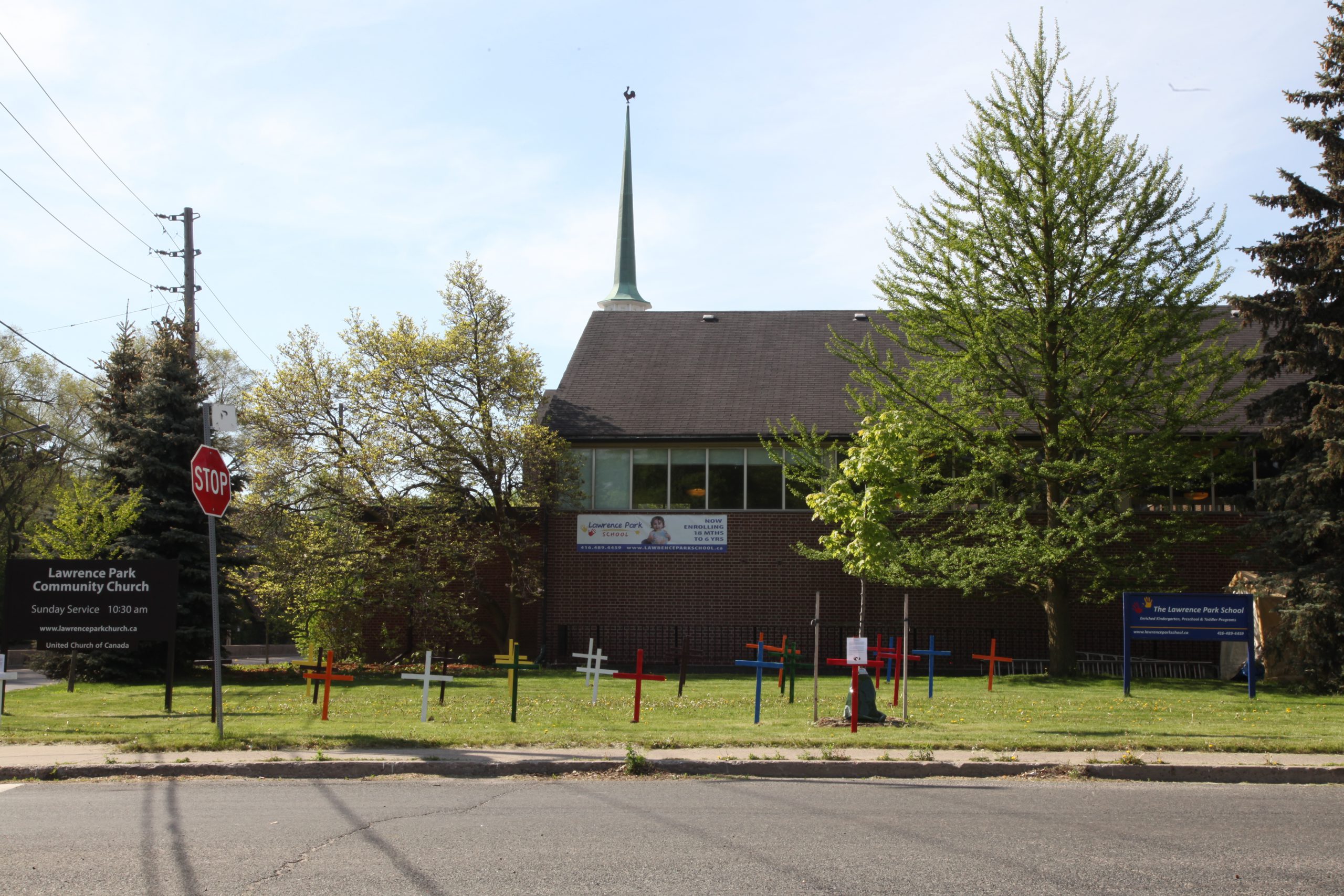 Twenty-six crosses for the 26 lives lost from COVID-19 in Ontario in a day. This was the fundamental symbolism behind each one Milton staked into the earth on May 19, their varying shades representing the disproportionately high numbers of deaths and infections in racialized communities. In July 2020, Black people and people of colour made up 83 percent of reported COVID-19 cases in Toronto alone.
"This is a pandemic which has really happened to two cities, not one," said Milton. "One city has access to good health care and can afford to self-isolate and work from home … [then] there's this other city of Toronto, which has been deeply affected by [COVID-19] in a devastating way."
---
More on Broadview:
---
The "Covid Crosses" project began a few weeks ago, when Milton contemplated how to best address what he saw as Ontario Premier Doug Ford's inaction towards mandating paid sick leave days during a global pandemic. A protest or service might survive for a day in the news cycle, but he wanted an act that could be sustained. Then the idea sprung up in his mind: churches have graveyards. Crosses were the most natural markers for each life passed, and this was a project that could be easily replicated at other churches in the province.
After Milton called around, two other churches joined the plan: Manor Road United in midtown Toronto, and Humber Valley United in the city's west end. Rev. John Joseph Mastandrea from Manor Road said that his church's crosses were erected a 10-minute walk away from the Roehampton Hotel, a recently opened temporary hotel shelter for the city's unhoused population. Those residing there are living proof of the pandemic's uneven effects; a recent report in the Canadian Medical Association Journal found that people with a recent history of homelessness were more than five times more likely to die within 21 days of a positive COVID-19 test, and more than 20 times more likely to be hospitalized.
"It was very surreal," Mastandrea said about the sight of his church's front lawn checkered with 14 multi-coloured crosses. He likened it to the fields of crosses that commemorate fallen soldiers from World War I. "There's a sense of communal grief."
The experience of digging holes for each cross was unlike any funerals or wakes Milton has presided over. "A funeral is always very specific," he said. "You know exactly who you're talking about, who you're remembering. Whereas in this case, it was much more anonymous. We were putting out crosses for people who we didn't know."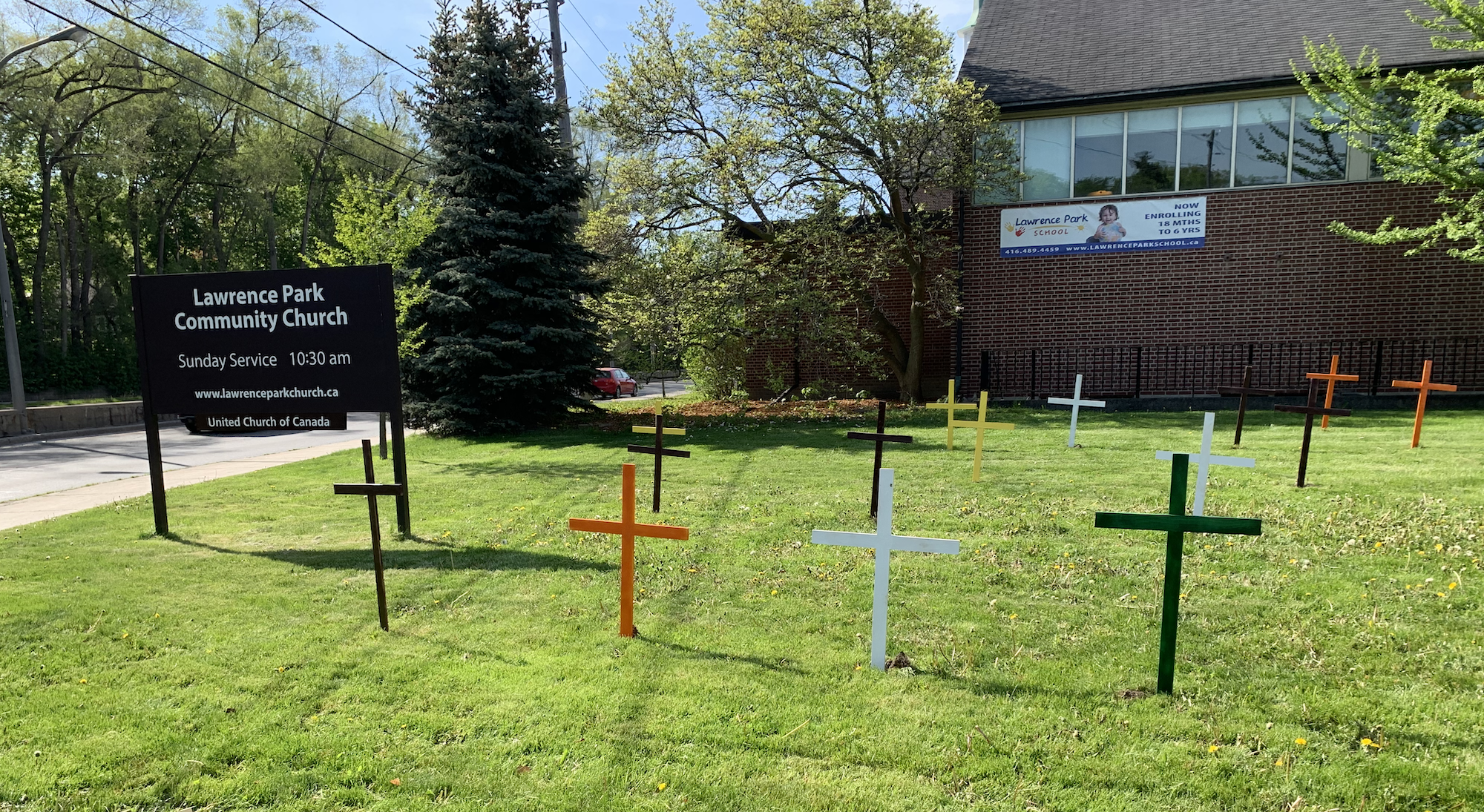 For Rev. Trevor Brisbin from Humber Valley United, his plan to set up 20 crosses this Friday is about nurturing community in his virtual congregation. "People miss being together," he said. Many have passed away this past year from his church, and although nobody died from COVID-19 in his congregation or the other two churches' congregations, churchgoers yearn for a public acknowledgement of their shared grief.
"We haven't had the chance to mourn properly and say goodbye to our friends," Brisbin said.
The future for these "Covid Crosses" remains uncertain. Mastandrea plans to take them down in the next week or so, lest they become "wallpaper" or a sight that passersby begin to ignore. Brisbin and Milton are less certain about their timelines. Maybe the crosses will be uprooted in the next month or so, they say, and if a fourth wave of COVID-19 hits Toronto, Brisbin added that they just might go right back up again.
In any case, Milton believes that these crosses call attention to the difference between Toronto's two cities, especially for those shielded from the worst that the pandemic has to offer.
"This is our way of reminding everybody (in our case, in an affluent, fairly protected neighborhood): no, really, this matters," he said. "It happened to other people, and it matters just the same."
***
Stephanie Bai is Broadview's 2021 digital intern. 
---
We hope you found this Broadview article engaging. 
Our team is working hard to bring you more independent, award-winning journalism. But Broadview is a nonprofit and these are tough times for magazines. Please consider supporting our work. There are a number of ways to do so:
Subscribe to our magazine and you'll receive intelligent, timely stories and perspectives delivered to your home 8 times a year. 
Donate to our Friends Fund.
Give the gift of Broadview to someone special in your life and make a difference!
Thank you for being such wonderful readers.
Jocelyn Bell
Editor/Publisher