The past week has marked a departure from routine for Canadians across the country — and food banks are no exception. 
The Compass Food Bank and Outreach Centre in Mississauga, Ont., for instance, had to radically change the services it offers as it responds to the COVID-19 pandemic. The centre was forced to suspend all its social outreach programs for the next month and limit the number of clients it can serve to 10 at a time, while simultaneously dealing with a severe depletion in food and volunteer resources.
Volunteer co-ordinator Sheryl Darlington says the organization lost 10 volunteers in the first two days of its new approach to serving clients, as the volunteer base consists largely of older people who are at a higher risk of catching COVID-19. The Compass is taking to social media to ask for new volunteers, and this approach seems to be working. 
Food banks such as The Compass, which was established by a an ecumenical group of churches in 2002, know that they provide a lifeline to the most vulnerable members of our communities. But now that health authorities are urging extreme social distancing measures, The Compass and other area food banks, including The Stop Community Food Centre and Daily Bread Food Bank in Toronto, have had to make difficult decisions as they try to strike a balance between safeguarding the health of staff, volunteers and clients; continuing to meet the needs of clients for food; and helping reduce the spread of the virus.
Many people go out and buy things for themselves and their families as needed, but the average food bank client has to survive on less than $8 a day, according to Daily Bread, and buying enough food for two weeks is simply not an option.
"Finding food to buy has been challenging given the current situation," Darlington says. "Even our regular suppliers are often out of what we're looking for." 
Pasta is an important food bank staple, but Darlington says that The Compass was out of it by the end of last week, and with grocery stores selling out, the food bank is not receiving donations. She says that the people who rely on food banks are worried about how they will get through the pandemic. The Stop has echoed this concern. "To stockpile food and supplies, you need to be able to afford these essential basics in the first place," said one of the volunteers, who didn't want to be named.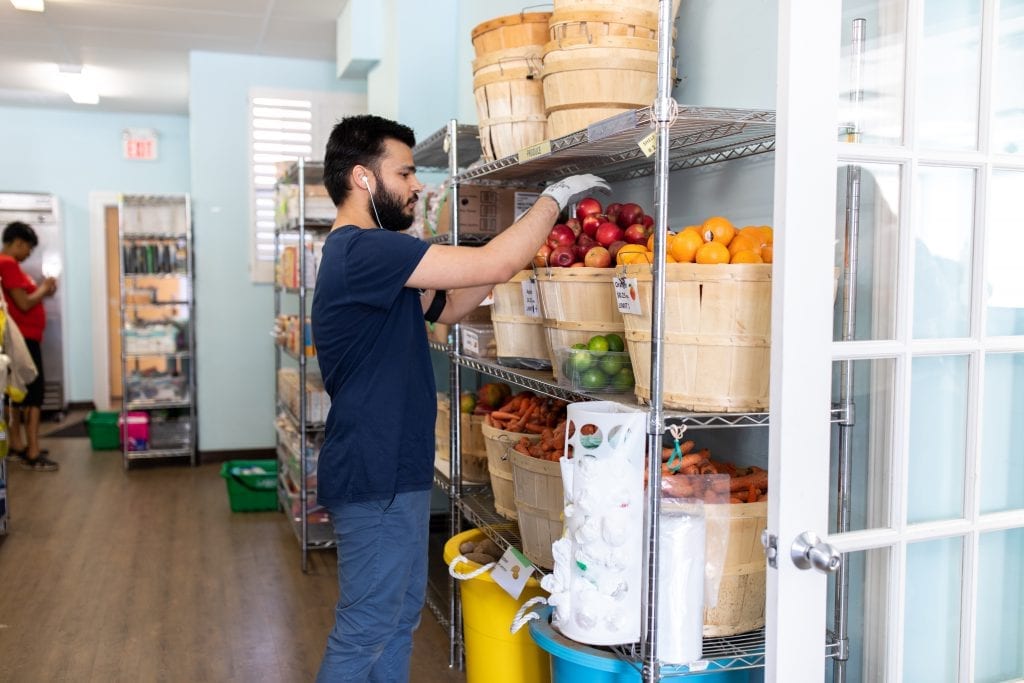 At The Compass, clients usually "shop" from a variety of food choices, similar to a grocery store. But since last week, volunteers have instead been preparing bags containing a variety of balanced food supplies. Families of one to three people receive one bag, families of four to six receive two, and families greater than six receive three. The Compass also has limited items such as diapers, baby food, personal hygiene products and bus tickets. 
Everyone feels the effects of this pandemic, but few people are more exposed to its negative consequences than the most vulnerable. And at the same time as food banks are being forced to scale back the services they offer, the need for those services could rise as more people find themselves without work. 
The Compass and The Stop both stress that their greatest need right now is for financial donations, which allow them to immediately buy the most-needed supplies for their clients at lower-than-retail prices.
Lucie Zima, a long-time Compass volunteer, is hopeful that, "when the dust settles, our core values as a society—kindness, gentleness, patience, mindfulness and generosity of spirit—will prevail. What a wonderful result from an unprecedentedly tumultuous time that would be."
Broadview is an award-winning progressive Christian magazine, featuring stories about spirituality, justice and ethical living. For more of our content, subscribe to the magazine today.