As a second-generation Canadian living in Scarborough in east Toronto, I fell in love with Christmas in elementary school back in the early 2000s. Secret Santa gifts, sweet treats and magical decorations were all things that I looked forward to even though I didn't celebrate Christmas.
Immigrating from Sri Lanka, my parents didn't take much notice of Christmas. They made it clear that Eid was the holiday we observed.
Eid occurs twice in the year. The first, Eid al-Fitr, follows the Islamic holy month of Ramadan and is the feast after the fast. The second, Eid al-Adha, commemorates Prophet Ibrahim's willingness to sacrifice his son. During both, we get dressed up in new clothing, spend time with our cousins, take the day off and have great food.
---
More on Broadview:
---
But growing up Muslim in Canada, I never felt like Eid was as special as Christmas. For me, it didn't have the same level of anticipation or collective joy. I was envious of all the Christmas festivities. I felt like everyone in the whole country was celebrating Christmas, yet when it came to Eid, only a few of us marked the day.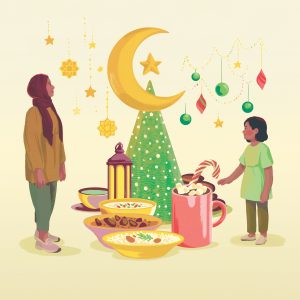 When the pandemic hit and I spent more time at home with family, I started to realize that Christmas wasn't the smell of gingerbread, the marathon of Home Alone movies or the warm holiday drinks — it was the magical feeling that came with these things. That's when I decided that instead of sulking about what I didn't celebrate, I would fully embrace Eid, the sacred holiday that I love so dearly and that nourishes my faith.
Now, the sound of calming recitations of the Qur'an playing on the radio, the smell and taste of our traditional Sri Lankan Eid brunch with coconut milk rice and curry, the sight of my gold decorations and twinkling fairy lights, and the feeling of my sister's loving embrace as she wishes me "Eid Mubarak" (Blessed Eid) engulf me with that overpowering, joyful feeling I had so longed for as a child.
***
Sabra Ismath is a writer and digital producer in Toronto.
This story first appeared in Broadview's December 2021 issue with the title "That Magical Feeling."
---
We hope you found this Broadview article engaging. 
Our team is working hard to bring you more independent, award-winning journalism. But Broadview is a nonprofit and these are tough times for magazines. Please consider supporting our work. There are a number of ways to do so:
Subscribe to our magazine and you'll receive intelligent, timely stories and perspectives delivered to your home 8 times a year. 
Donate to our Friends Fund.
Give the gift of Broadview to someone special in your life and make a difference!
Thank you for being such wonderful readers.
Jocelyn Bell
Editor/Publisher