Several United Church camps across Canada have halted programming this summer because of problems finding staff.  
Camp McDougall, located in Thessalon, Ont., an hour from Sault Ste. Marie, Ont., closed its doors on July 9 after being unable to hire a lifeguard or a head cook. This is the first time since the United Church camp opened in 1960 that it's closed due to staffing issues, says Nancy Ferguson, a board member of the camp.
Ferguson says there is a low supply of and high demand for lifeguards in the Thessalon area, in part due to a COVID-19-induced shortage of lifeguards. She says the camp offers competitive wages — the same rate as local pools — but was not successful in finding a long-term lifeguard.
The issue of staffing isn't just plaguing Camp McDougall. Just next door in Thessalon, Rainbow Camp for 2SLGBTQ+ youth, which isn't a United Church camp but receives some funding from the United Church, has also closed for the rest of the summer due to staffing issues. Camp Pringle, a United Church camp in Shawnigan Lake, B.C., also cancelled summer camps due to staffing issues and lingering impacts of COVID-19.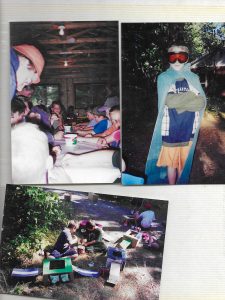 Rock Lake United Church Camp in Argyle, Man., about an hour and 30 minutes from Brandon, halted programming this summer due to an inability to hire a camp coordinator and a lack of directors on the board.
"We had some staff issues and just got through by the skin of our teeth last year," David Manning, chairperson for Rock Lake, says. "It had been discussed that we couldn't get anybody this year, that we should maybe close and just kind of rethink what we're doing."
Manning credited COVID-19 with a lot of the camp's struggles in hiring, particularly the lack of training for waterfront duty during the height of the pandemic. Now, people who potentially would work at a summer camp don't have the proper training, he says.
Joe Richards, executive director at Pearce Williams Summer Camp in Fingal, Ont., near St. Thomas, is a coordinator of Outdoor Ministries Institute, a group that connects United Church-affiliated camps across the country. 
He says the pandemic created a "void" in staffing.
"The challenges are that you're trying to rebuild after two years of being closed and you've lost two years worth of campers and two years worth of staff — kids who would have grown into becoming a counsellor-in-training and becoming a camp counsellor, and staff who would have grown from being a camp counsellor to becoming a leadership team or a senior staff member," he says.
---
Want to read more from Broadview? Consider subscribing to one of our newsletters.
---
However, at Rock Lake, all director positions on the board are now filled, Manning says.
"That's turned around for us … and we're really hoping for bigger and better things next year."
Camp McDougall was booked full nearly every week this summer.
"It's a life-giving place that shapes and gives memories to kids that we don't even know…" Ferguson says. "There's a number of us that have come through camp, and it's been formative in our call to ministry."
Camp McDougall is determined to come back, and Ferguson says they're already discussing ways to ensure they have a successful summer 2024. She says the staff shortage blindsided them.
"We had to close for 2020 but we were able to open for 2021 and there was initial excitement," she says. "We got all our staff and then, you know, two years later, what's happened? What's happened with getting staffing because it's not just us. It's a phenomenon."
---
More on Broadview:
---
In Outdoor Ministries Institute's monthly call, Richards says the camps have been discussing solutions to staffing issues, such as implementing leadership training in the off-season for high-school age campers who could become staff the following summer. Pay increases have also come up, as well as better utilizing camp alumni.
"There's no surefire solution," Richards says. "It's public relations and word of mouth and getting parents aware of the value of their children working at camp."
***
Charlotte Alden is a Broadview summer intern based in Vancouver.
---
We hope you found this Broadview article engaging. 
Our team is working hard to bring you more independent, award-winning journalism. But Broadview is a nonprofit and these are tough times for magazines. Please consider supporting our work. There are a number of ways to do so:
Subscribe to our magazine and you'll receive intelligent, timely stories and perspectives delivered to your home 8 times a year. 
Donate to our Friends Fund.
Give the gift of Broadview to someone special in your life and make a difference!
Thank you for being such wonderful readers.
Jocelyn Bell
Editor/Publisher