Commissioners, staff and invited guests made history this weekend as they commenced the 44th General Council. The national gathering of The United Church of Canada, which kicked off on Feb. 13, is to be held intermittently over six months, making it the longest General Council meeting in the history of the church, and the first to be held fully online.
"If you have been at a General Council before, this experience will be different. Allow it to change, allow the Spirit to make it feel different," invited Sue Broderick, chair of the planning committee, in her opening remarks. "I am sure that the work of this Council will be done in a different way, but it will still get done."
Despite some technological hurdles and new ways of doing things, Council successfully convened not only to pray and worship, but also conduct preliminary business, all under the expansive theme of "Who do you say I am?" Arguably the most unforgettable moment in the five-hour gathering was a deeply moving scripture reading of Matthew 16, delivered partly in rousing song, by performance artist Shayna Jones.
---
Interested in more stories like this? Subscribe to Broadview's weekly newsletter.
---
With tears and a pause, the Rt. Rev. Richard Bott, who will serve as moderator of the United Church until his successor is installed in August, began his reflection. The theme of this General Council, he said, emerged from the sense that the United Church, as a denomination, needs to wrestle with the same question that the disciples who walked with Jesus asked themselves. "That question is not answered with words. Words help us to articulate what we believe," he insisted. "Our actions really show what we believe."
Shortly after, Council moved into the business portion of the proceedings. Technological hiccups made for some bumpy moments, but motions were still successfully made and passed. Among these was a procedural motion that outlined how this distinctive gathering will happen and the process for electing a new moderator.
Several proposals included as part of the opening business — on topics including the amalgamation of congregations, financial support for ministry personnel and review of the new structure, among others — were lifted from the consent motion and referred to the business committee for further action.
That left only three proposals standing. The first of these gives a green light to changing the Manual to offer formal hearing committees and appeals committees the option of meeting virtually to hold hearings and to grant extensions to these committees' time limits in extraordinary circumstances — like a pandemic. Another gives diaconal and ordained supply ministers from other denominations the ability to serve United Church communities of faith for a short period without requiring them to be in the process of seeking to be admitted to the order of ministry in the United Church. Finally, a third proposal calls for the United Church to set aside the first Sunday in August to mark Emancipation Sunday. All three proposals were carried.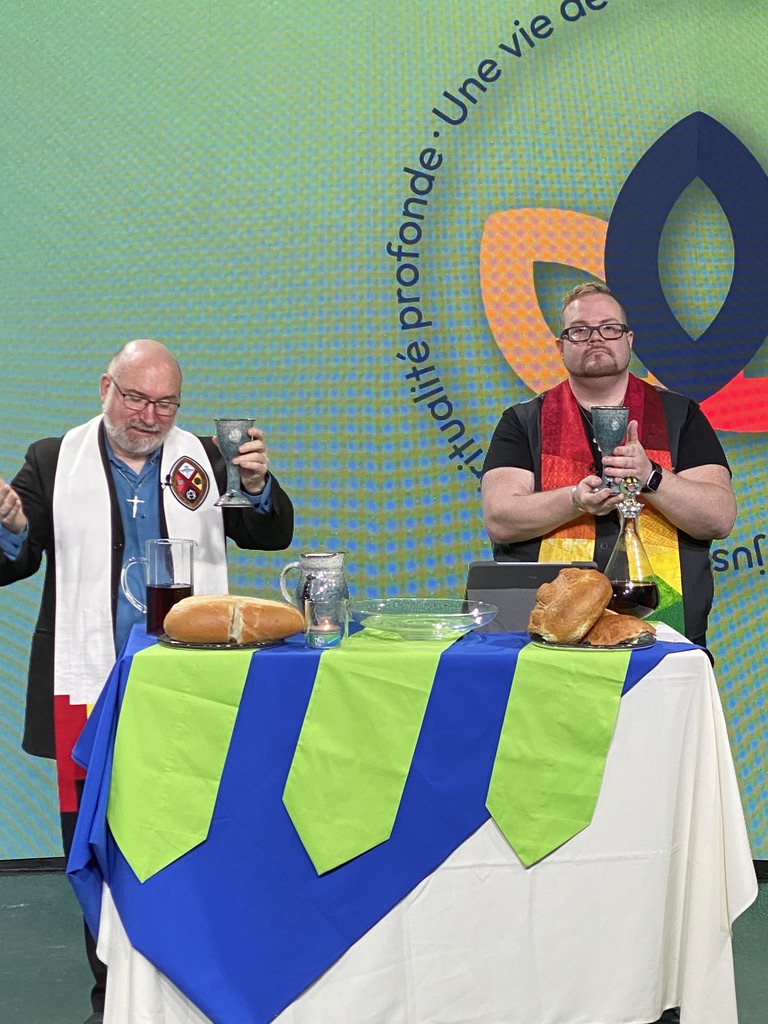 Among the highlights of this opening session were words of wisdom and guidance from Elenor Thompson and Ray Jones, members of the National Indigenous Elders Council, offered near day's end. Thompson injected humour into the unique and sometimes challenging gathering. "I still have a headache from trying to figure out my way around technology," she said, "I feel like I'm getting there."
Underlying her offhand remark, however, was a real concern about accessibility for those attending this General Council in places with patchy internet connections. Thompson and Jones were initially scheduled to speak earlier in the proceedings, but due to problems connecting, spoke later than planned. It's a modern version of an old problem: Indigenous communities being left on the margins of the church.
Yet this General Council hopes to finally change age-old colonial structures. "We're on a new path," reflected Jones, alluding to a more equitable role for the Indigenous United Church to be discussed and decided on in later sessions. "It is very exciting for all of us," he enthused, referring to new "opportunities" and a spirit of "hopefulness."
That people were able to come together during a pandemic to pray, worship, talk about theology and deliberate on matters concerning the future of the church was nothing short of historic. "This new forum is trying to be the body of Christ in the middle of a pandemic, when it is impossible to gather in person," applauded invited guest Archbishop Linda Nicholls, primate of the Anglican Church of Canada, "to try and do that in ways that make it possible for all the voices to be heard."
General Council is adjourned until June 17 for the discussion phase of the business process, though worship and learning sessions will take place between March and May.
***
Julie McGonegal is an associate editor at Broadview.
---
We hope you found this Broadview article engaging. 
Our team is working hard to bring you more independent, award-winning journalism. But Broadview is a nonprofit and these are tough times for magazines. Please consider supporting our work. There are a number of ways to do so:
Subscribe to our magazine and you'll receive intelligent, timely stories and perspectives delivered to your home 8 times a year. 
Donate to our Friends Fund.
Give the gift of Broadview to someone special in your life and make a difference!
Thank you for being such wonderful readers.
Jocelyn Bell
Editor/Publisher