Editor's note, Sept. 30, 2019: James Moffett died on Sept. 29. Broadview is grateful we were able to share his story and our thoughts are with his family and friends. 
James Moffett, a classical composer, grapples with his computer mouse, gritting his teeth as he tries to make his right hand obey and double click a folder on the desktop. It's March 2019, and we're in the living room of his St. Catharines, Ont., home, where he is trying to show me a list of the music he's written since his cancer diagnosis in 2017. Moffett, in his mid-40s, recently underwent CyberKnife treatment for a brain tumour. His shaky hands are the first evidence I've seen of the side effects on his body.
When he finally opens the digital folder, it's nearly impossible to believe he wrote all of this music in less than two years. Sonatas for nearly every orchestral instrument, multiple choral works, numerous song cycles for different voice types, orchestral suites and 24 preludes for piano — he's written hours upon hours of music as if it were the easiest thing in the world. Knowing he's going to die, it seems, has released Moffett from his creative inhibitions and unleashed a torrent of musical ideas.
It makes me wonder how I would spend the last years or months of my life if I knew the end was coming. Would I jump into action to seize the precious time remaining, or would I slow down to reflect on what I'd already accomplished? There is, I presume, no right way to navigate the end of life. But in Moffett's case, a terminal diagnosis has pushed him to return to a youthful passion that he'd put aside for decades.
My first memory of James Moffett is from 25 years ago, when we sang in the Toronto Mendelssohn Youth Choir together and he seemed to me a musical prodigy. At 17, he composed a stunningly beautiful piece for the choir to sing, a lilting setting of a William Blake poem that I still find myself humming today. Soon after, Moffett enrolled at the University of Toronto to study both voice and composition. "When I was young," Moffett writes on his website, "I imagined becoming the world's best vocal music composer."
But Moffett found himself out of step with his peers at U of T, drawn to a composing style that wasn't in vogue. "My composition professors were always telling me what I was writing was too melodic, too old-fashioned," he says. At the time, contemporary classical music was all about challenge — challenging boundaries, challenging the audience, challenging the musicians — and Moffett wasn't interested in that. He wanted his music to move both the audience and the musicians performing it.
The lack of support frustrated Moffett. Composers aren't exactly a well-paid lot to begin with, and he wasn't interested in being told what type of music to write to earn a paycheque. So he walked away from composing altogether, leaving his music degree unfinished to pursue a career in web design instead. He got married and raised children, and for almost two decades, he didn't give composing much thought. 
Moffett built a life without music. But as he did, some of the cells in his body turned cancerous. "Before you've even thought about it / Or anyone has named it for you, / Your cells have been busy / Betraying your body," he would later write in the opening lines of The Lavender Fields, a song cycle that has become one of his best-received works. Moffett learned he had stage II melanoma skin cancer in the summer of 2017, and he and his family were left wondering what might come next.
A few weeks after the diagnosis, the family attended a lavender festival and returned home with an extravagant, perhaps even excessive, haul of bouquets. Lavender "became a metaphor for us," Moffett tells me. The flowers, with their luxurious scent, were a means of wholeheartedly embracing the present and filling it with what you love. "We need to spend time with friends, we need to do the things we always wanted to. Because if we don't do them now, we literally will never do them."
The "lavender effect," as Moffett came to call it, is what brought him back to music. "I said, 'Wait a minute, I really like to write music. It brings me joy.'" And now that he wasn't doing it for the money, he could write whatever he wanted to. What he wanted to write was, as he puts it, serious music. Serious, but beautiful. "I'm trying to dig into the emotions that are salient to me and to my generation," he says. "I'm trying to talk about things that people actually care about."
Despite his ill health, Moffett threw himself back into composing and reached out to old colleagues to ask if they would perform his work. The response was swift and enthusiastic. First he wrote a sonata for the principal cellist of the Niagara Symphony Orchestra, then additional pieces for other musicians. Moffett believes all Canadian classical musicians should perform new Canadian music, and he will give his scores away for free to anyone who wants to use them. Writing music is clearly a cathartic experience in itself for Moffett, but seeing it performed and appreciated has left him feeling overwhelmed with gratitude.
In The Lavender Fields, which Moffett wrote for the Greek-Canadian mezzo-soprano Ariana Chris, the composer reflects on his journey with cancer and sums up succinctly the philosophy that is guiding him now: "Every today is a gift," he writes, "that you want to open slowly, carefully, revealing unexpected treasures."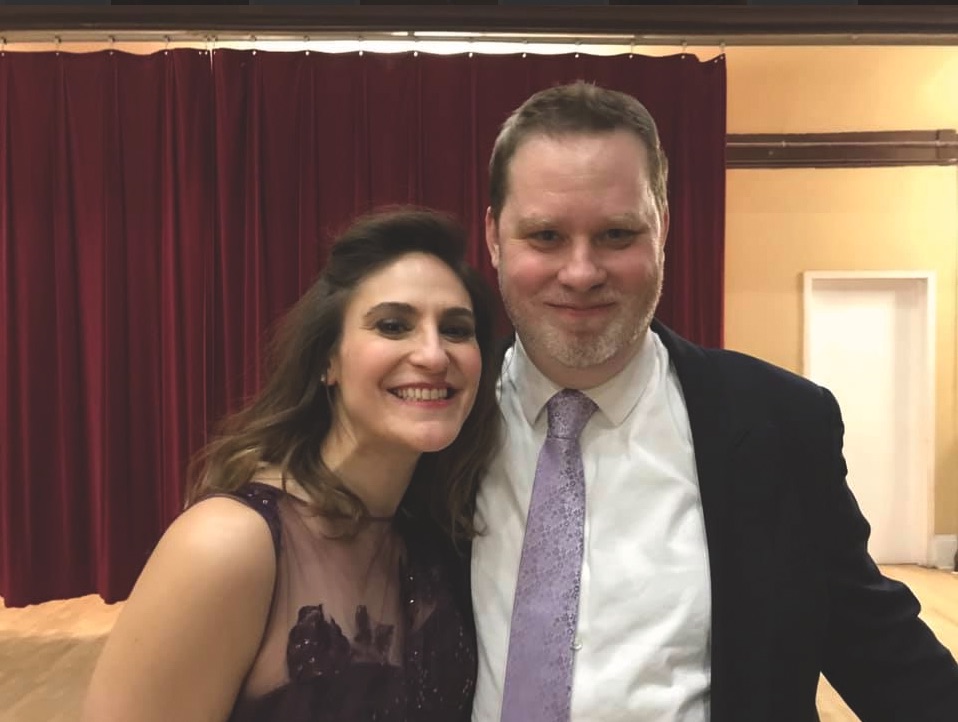 Chris debuted the song cycle at Toronto's Trinity-St. Paul's United earlier this year, and Moffett says concertgoers who themselves had cancer spoke with him afterward about the authenticity and insight they perceived in his poetry. Chris has performed the piece twice more, once again in Toronto and once in New York City. "It's changed who I am, because it's with me every single day," she says. "When you spend two hours in the morning singing [these songs] and crying, you can't help but go about your day differently; you're a little more raw, a little more accepting, everything is more meaningful." Chris says audience members also reach for the tissues whenever she performs the piece.
It's too early to assess the long-term impact of Moffett's work on the Canadian classical music world, but seeing musicians push to perform his compositions is inspiring. There is a rallying behind this composer and his creative outburst that should remind us all to embrace each day as the gift that it is, and not worry too much about the inevitability of death.
"We go to the lavender fields in early July. / Bright bristles paint the field with light violet vibrancy, / Each bud dripping with colour and fragrance," Moffett writes in The Lavender Fields. "We say, let's not think about September, / When the greyed buds will crumble, tired and faded."
This story first appeared in the October 2019 issue of Broadview with the title "Final movement." For more of Broadview's award-winning content, subscribe to the magazine today.